Keaton Henson, Queen Elizabeth Hall, London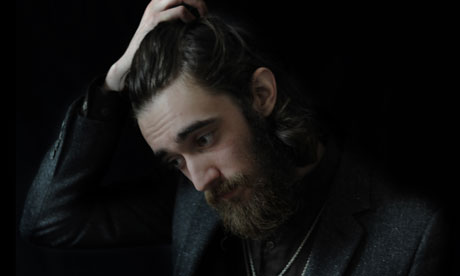 The buzz surrounding this one-off performance by the enigmatic, famously reclusive, modern-day renaissance man, Keaton Henson, is tangible. His only other live performance of 2014 came at the Antigel Festival in Geneva back in February, so tickets for this event, part of James Lavelle's 'Meltdown' at the Southbank Centre, have quickly been snapped up.
For all the talk of Henson's crippling fear of live performance, the evidence that he appears to be conquering his stage-fright is promising. Despite creeping from the wings in near-darkness and the occasional pregnant silence as he moves between the grand piano and guitar, he introduces his songs with a softly-spoken charm and strikes up an easy rapport with his audience. Spontaneous laughter en masse isn't something we'd expected to hear that evening.
He tells the crowd how 'Lying To You' was written while killing time in a bleak Los Angeles hotel room, and that it was especially significant for him to play the Queen Elizabeth Hall as he'd once seen his hero, Randy Newman, performing there on the very same stage. Invaluable details for his ardent fans who are certainly vocal enough between songs to let Keaton know just how affecting people find his music.
Like so many expansive artists, Keaton Henson seems to enjoy collaboration, Birthdays featuring guest musicians on several tracks. His new classical album Romantic Works, from which he plays several songs, was written closely with Ren Ford, cellist from The Josella String Quartet who accompanies him for most of the show. The stage itself is designed by artists Clarke & Reilly; a floor arrangement made up from over 3,000 antique car wing mirrors framed by rustic wooden beams, reflecting light elegantly around the venue.
Altogether, this feels like a special event. The venue's perfect and the music gorgeously rendered live; delicate and sincere, hitting all the same impassioned lows (and occasional highs) you can draw from the records. The set is over within the hour but never misses a beat, including favourites and rarities from his entire back-catalogue, managing to be both intimate yet grand. Some may find him self-involved or maudlin, but that would be missing the point. If we all felt love, loss, guilt and fear as acutely as Keaton Henson, and were all able to express it as beautifully, he wouldn't be quite so special.
back to top